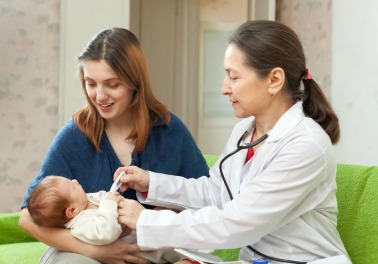 The original version of this course was supported by the Nutrition, Physical Activity and Obesity Program Cooperative Agreement 3U58DP001400-05S1 from the Centers for Disease Control and Prevention (CDC). The 2019 revision of the course was supported by Health Resources & Services Administration- Maternal and Child Health Bureau (HRSA-MCHB). Its contents are solely the responsibility of the authors and do not necessarily represent the official views of the CDC or HRSA-MCHB.
Designation Statement:
THIS COURSE IS NO LONGER DESIGNATED FOR CEUs.
Posttest:
You need to answer 12/16 questions correctly to receive a certificate of completion.
Introduction:
As more mothers choose to breastfeed, health care professionals are in a unique position to provide the instruction, encouragement and support that mothers and their infants need to be successful. The American Academy of Pediatrics (AAP) updated its policy statement on breastfeeding and the use of human milk in 2012.1 Efforts to help pediatric residents support mothers led to the creation of the AAP's Breastfeeding Residency Curriculum.38 This module is designed to provide you with a refresher course on breastfeeding. It has a practical orientation with a focus on support for mothers after discharge from the hospital.
Even though exclusive breastfeeding is the preferred choice of feeding for all infants1, 24.9% of infants in the US are breastfed exclusively for six months2, and evidence has shown that mothers are not fulfilling their desired infant feeding goals.3 In order for mothers to initiate and continue breastfeeding according to their goals, they require consistent, sustained information and support4 from healthcare professionals– and society to overcome barriers in their path. Breastfeeding continues to be recognized as a vital disease-prevention behavior as reflected in the goals of Healthy People 2020 (see sidebar).
Breastfeeding is not the sole responsibility of the mother. Successful breastfeeding requires support because the mother lives in a broader social context. If health professionals encourage breastfeeding while acknowledging the challenges of doing it as part of our modern lifestyle, then they are supporting mothers in making healthier choices for their infants and for themselves. In addition, by emphasizing the long-term benefits, they are highlighting the mother's contribution to a healthier population overall – the benefits of which extend beyond an individual mother and her children.
Clinicians' can make important contributions to the promotion of breastfeeding through encouragement, recommendations, and role modeling. Support and counseling by health professionals has been shown to improve rates, early initiation and total duration of breastfeeding, particularly exclusive breastfeeding.4,5,6,7,8,9,10 Mothers' decisions are influenced greatly by health professionals' advice. Mothers may have many different sources of information on breastfeeding coming to them from family, friends, and advertising campaigns, but the most reliable information should be coming from their pediatric care providers. With their highly visible role in the community and their frequent, continuous interactions with soon-to-be and new parents, pediatric care providers can be a key component in the promotion and support of breastfeeding, especially in the early days post-partum. A mother may face many challenges that may affect her breastfeeding outcomes in the long run; in those early days, the pediatric care provider is the person she will rely on for help and answers to her questions.
The course is composed of 7 modules:
Section 1: Current AAP Guidelines on Breastfeeding
Section 2: Breastfeeding Background
Section 3: Role of Broader Factors in Infant Feeding Decisions and Practices
Section 4: Breastfeeding Management and Troubleshooting
Section 5: Successful Breastfeeding Requires Support
Section 6: Integrative Case Studies
Section 7: Resources and Posttest
A 12 question post-test is available at the end of the course.
Learning Objectives:
By the end of this module, physicians and other primary care providers should be able to:
Explain implications of breast physiology for achieving exclusive breastmilk feeding;
Apply the current guidelines regarding duration of breastfeeding, use of supplements, and use of infant formulas;
Identify the limited contraindications to breastfeeding;
Assess breastfeeding history and lactating mothers' needs;
Make appropriate recommendations for referral to lactation services;
Recommend medication choices that are aligned with supporting lactating mothers;
Describe the population-wide benefits of supporting breastfeeding.
Disclaimer:
This continuing education module is designed for use by healthcare professionals for educational purposes only. Information and opinion offered by the contributors represent their viewpoints. Conclusions drawn by the participant should be derived from careful consideration of all available scientific information. Prescription information and use of medical devices should be undertaken only after confirmation of information by consulting the FDA-approved uses and information. We make every effort to have accurate information presented, no warranty, expressed or implied, is offered. The participant should use his/her clinical judgment, knowledge, experience, and diagnostic decision-making before applying any information, whether provided here or by others, for any professional use. Links are provided to other Internet sites solely for the convenience of users. Once you link to another site, you are subject to the site's terms and conditions of use including copyright and licensing restrictions.
Disclosure:
The authors have reported no relevant financial or other relationships with commercial entities whose products/services may relate to the educational content of this activity.
Contact information:
Healthy People (HP) Program
Healthy People (HP) is a national program involving disease-prevention goals created by the United States Department of Health and Human Services.
For several decades, the HP program has been providing measurable objectives that identify nationwide health improvement priorities and raise public awareness to improve the country's overall health and quality of life. The goals involve science-based, 10-year objectives for health improvement.
Breastfeeding Rates in the United States and Massachusetts (2018)
| | | | | | |
| --- | --- | --- | --- | --- | --- |
| Region | EverBreastfed | Breastfeeding at 6 months | Breastfeeding at 12 months | Exclusive breastfeeding at 3 months | Exclusive breastfeeding at 6 months |
| U.S. National | 83.2% | 57.6% | 35.9% | 46.9% | 24.9% |
| Massachusetts | 87.4% | 55.6% | 36.8% | 46.5% | 26.6% |
| Healthy People2020 Target | 81.9% | 60.6% | 34.1% | 46.2% | 25.5% |
For more information https://www.cdc.gov/breastfeeding/data/reportcar