Hand/manual pumps and battery pumps are used in situations similar to those where hand-expression is appropriate – short-term separation or to remove a little bit of milk for comfort. They pump one side at a time, and are definitely not efficient enough to maintain a mother's supply in the case of long-term separation.
Electric pumps (not rental/hospital-grade pumps) are designed for personal use. They will pump both sides at the same time. For a mother with a good milk supply this can be efficient enough to maintain her supply if she is separated from her baby for a normal work week (30 – 40 hours, or 7 -8 hours at a time).
Hospital-grade pumps are the most efficient pumps available, and are only available as rentals.
This is the pump a mother needs in cases of full-time separation (i.e., a baby in the NICU), or when there is a medical indication in the early days. Also if the baby has motor issues that inhibit latching, multiples, or any case when the majority of feedings will be done by pump.
If a mother is having trouble establishing or re-establishing her supply, including if the baby is in the NICU and there is an expected delay in feeding at the breast, a hospital-grade pump will be most efficient at increasing her supply. The motor (the part that is rented to a mother) is a "closed system", meaning that her milk never enters the pump body at all.
To go with her rental motor, a mother purchases the tubing/flanges/collection bottles, and these parts that she owns are the only things that come in contact with her milk. When she is done with her rental, she returns the pump body, and the next renter will purchase new attachments.
Lactation experts can also provide education about pumps.
When returning to work, it is helpful to develop a pumping schedule to make sure the mother has plenty of time in her day to pump. The Business Case for Breastfeeding from WomensHealth.gov offers a sample-pumping plan for returning to work. This is just an example, and every woman is going to have variations in her day so creating her own pumping plan is important.
It may also be helpful for new mothers to return to work gradually to get used to the new routine. The Business Case for Breastfeeding offers some tips for returning to work slowly.
Return to Work Gradually
This gives you more time to adjust and helps your body make a good supply of milk. Talk with your supervisor about options that have worked for different women: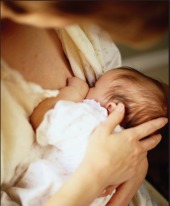 Start back to work part-time for a brief period before working full-time.
Work from home or combine working at home and at work.
Go back to work on a Thursday or Friday or just before 1-2 days off, depending on your work week. This gives you and your baby a shorter period to adjust to being away from each other before you go back full-time.
Take Wednesdays off for a few weeks for a mid-week break, and breastfeed on your baby's schedule to rebuild your milk supply.
Work a split shift, with a long break in the middle of the day to go home and be with your baby. This can work well for restaurant workers.
Consider using childcare close to work so you can visit and breastfeed your baby, if feasible, based on your work schedule.
When you arrive to pick up your baby from childcare, take time to breastfeed first. This will give you both time to reconnect before traveling home and returning to other family responsibilities.
Returning to Work
Many mothers face the challenge of continuing exclusive breastfeeding of their baby while returning to work. Often, mother's return to work within three months of their child's birth, and for many mother's the return to work must happen even earlier. In order to be successful in their breastfeeding beyond their return to work, they must have support as well as a plan to help them manage an appropriate pumping schedule so they can provide enough milk for their baby while they are away. For more information on returning to work, please click the link below to see the whole brochure from The Business Case for Breastfeeding.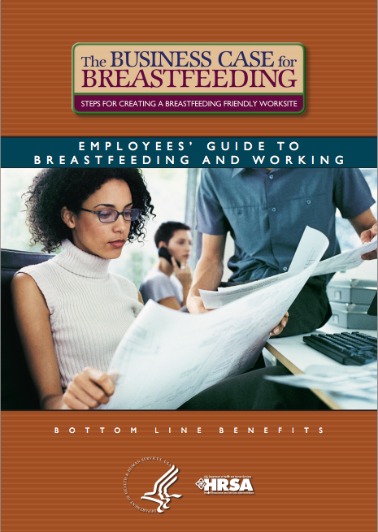 Mother's returning to work may have many questions about when and how to pump. Visit: https://wicbreastfeeding.fns.usda.gov/going-back-to-work, for more information on pumping strategies and answers to commonly asked questions.
Please see Section 5: Successful Breastfeeding Requires Support-Establishing a Breastfeeding-friendly Practice for more information.